Award Concepts Celebrates 30 Years
Darren Jeanis
June 3, 2015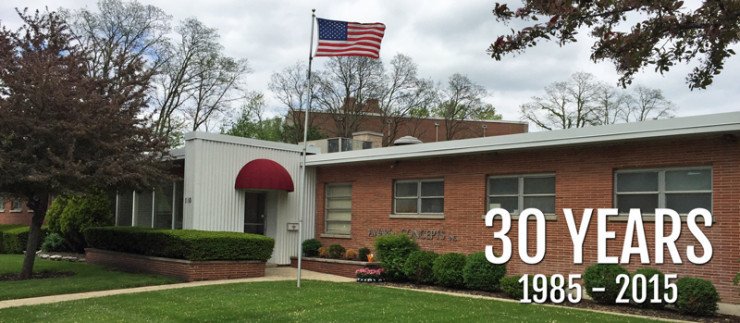 Award Concepts Celebrates 30th Anniversary
2015 marks thirty years of providing excellent employee recognition solutions
June 3, 2015 – Award Concepts, a leader in employee recognition programs and manufactured jewelry, celebrates its 30th anniversary. In 1985 co-founders Gordon Campbell and Bob La Frenier set out to develop cost-effective recognition programs for clients to demonstrate employee appreciation, enhance their corporate culture and produce successful return on investment. Over the last 30 years, Award Concepts has pioneered many new products and services, evolving into a leader for workplace recognition and organizational jewelry.
"Thirty years ago we had an idea that we could do it better, faster and more personal, manufacturing jewelry with the highest quality possible," says Gordon Campbell, Award Concepts President. "We have accomplished those goals, thanks to the wonderfully dedicated employees that have helped us along the way. Our valued client list is testimony that we have done something right."
Located in St. Charles, Illinois, Award Concepts services customers across the United States in industries such as healthcare, corporate, education and tech. Clients include United Airlines, Cracker Barrel Old Country Store, HCR ManorCare and Wake Forest Baptist Health.
Years-of-service programs have been a staple for decades, operating with a few standard choices of watches, clocks or crystal. Today, programs incorporate more lifestyle-oriented items such as electronics, home décor, wearables and fitness equipment. Award Concepts continues to build on its offerings with specialty selections such as Pacific Coast hotel-style bedding, Titleist and TaylorMade golf clubs and St. Croix fishing rods. They also partner with prestigious brands such as Allen Edmonds and Sonos.
Vice President of Sales and Operations Don Martens reports, "Whether it's our attractive gift collections, high quality manufacturing or our friendly customer service, we like to surprise our clients by consistently giving them more than they expect."
Award Concepts manufactures a wide range of recognition jewelry such as rings, lapel pins and other specialty awards for businesses, service organizations, fraternities, sororities and honor societies. From design to finished product, all operations are contained in their St. Charles factory.
"Over the last 30 years, we have embraced and integrated new technology," says Rick Greinke, Manufacturing Plant Manager. "We have also introduced a wide range of alternative metals into the marketplace. Award Concepts has always been a progressive company by staying current with manufacturing trends, software advancements and improvements in machinery. This positions us well to serve our growing customer base well into the future."
In 2012, Award Concepts developed and produced the Badge ACcent™, an innovative, customized emblem that attaches directly to employee name badges without piercing clothing or neckties. It is especially popular with hospitals and healthcare companies.
A year later, Award Concepts released its RGIFT4U™ online ordering platform. Featuring improved design and intuitive navigation, plus photo galleries and video tutorials for gift selections, RGIFT4U was met with widespread acclaim by program administrators and awardees alike.
"Award Concepts is the 'undiscovered vendor', making us a perfect fit for a lot of companies. We may be smaller than some of our competitors, but that makes us more agile and tech-savvy, and able to connect with our clients as colleagues and friends," says Carl Martens, National Sales Manager. "Our team is full of energy and enthusiasm. They've come up with innovations like RGIFT4U and the Badge ACcent, as well as a wide selection of unique gift offerings. Pair that with 30 years of excellence in designing and manufacturing quality custom jewelry and you can see why Award Concepts really is 'The Best' company for employee recognition."
For 30 years, Award Concepts' customers have cherished their high-quality, brand name products and handcrafted jewelry and enjoyed their refreshingly friendly and efficient customer care.
Vice President Bob La Frenier said, "We launched Award Concepts with the mindset that we could create a successful company by developing superior employee recognition solutions and committing to our customers a high standard of excellence." He added, "Award Concepts has demonstrated this philosophy over the past 30 years. We look forward to continuing that culture of innovation and appreciation in the workplace."
About Award Concepts
Award Concepts develops and delivers exceptional, cost-effective recognition programs that assist clients with their culture of employee appreciation while producing desired results and return on investment. Custom program specialization includes years-of-service awards, sales incentives, corporate jewelry, performance and safety achievements. Find out more about Award Concepts here: www.acthebest.com
Contact
To learn more about Award Concepts, please contact
Carl Martens, National Sales Manager
110 S. 11th Avenue
St. Charles, IL 60174
Direct: (800)659-7801
Email: sales@awardconcepts.net